Riviera's Unique 6th Hole
Well, it's that time of year again. The PGA Tour has played its two tournaments in Hawaii. It's wandered to the coast of California for the Buick in San Diego and the Pebble Beach Pro-Am (sans Bill Murray this year though), and this week they're in L.A. for the newly-named Northern Trust Open. Where are they playing this event, you may ask. At none other than Riveira Country Club, home to one of the most interesting par three holes in the world.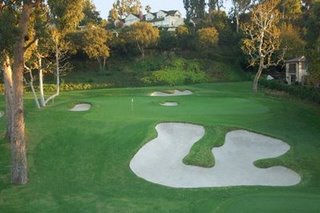 At first glance, the 6th hole at Riviera doesn't seem all that interesting. It's a par 3. It measures 199 yards for the pros this week. And it has a two-tiered green. Oh, and did we mention
the bunker in the middle of that
green?!?
That's right, there is actually a sand trap smack dab in the middle of the green!
This interesting little nuance has created some nail-biting times in the past, particularly when a golfer's ball comes to rest on the other side of the bunker from the flag. In a moment that makes every greenskeeper in the world cringe, many of the pros this week will actually take a wedge to the pristine grass on the 6th green, hoping to chip, flop, lob or pitch the ball over the offending sand. It is definitely an exciting golf shot.
If your event was at Riviera and you held a hole in one contest on the 6th would the bunker affect your ability to purchase hole in one insurance? Nope, not in the least. Just as long as nobody claims to have hit it a hole in one by landing it in the sandy crater located in the center of the green.
ADDITION:
Well, congratulations go out to Jeff Quinney, runner-up in the Northern Trust Open, who successfully tamed the par 3 sixth hole on Saturday by making a spectacular hole in one! Truth be told, Quinney apparently pulled his tee shot terribly, and though it appeared headed straight for the island bunker, the ball landed just to its right, and rolled back toward the cup for an ace. Who ever said making a hole in one didn't involve a little bit of luck!